Hazard Rally @ Wolf Hill Speedway Results
The Hazard Rally was held at the all new Wolf Hill Speedway this year, and it definitely did not disappoint.  We had another Big Block Kart in the Heatherman Construction Victory Lane, and a repeat winner for the Small Block Series.  Shane Lewis was able to secure his first 2022 Victory with a solid Feature Win in his #3, and Joel Decker pulled off his second Small Block Win in his #17.  The track had an average lap time of about 15 seconds, and we found out fast that a lot can happen in 15 seconds.  Just about every Kart in the Big Block Series spun out going through Turns 1 & 2, and the #5 had a big time flip going across the Start/Finish line.  Not everyone had issues though, Brad Mead was able to pull off his best finish ever with a Runner Up Feature Finish in his #26.  The #01, #88 and #77 filled out the top Five, while Chad Benson pulled off a Sixth place finish filling in for the #22.  Jeff Decker was able to make his way up to Seventh place after winning the "B" Main race in his #31 and transferring into the Feature.  The #21 was having a great race until he broke a belt, ultimately finishing in Eighth place, one place ahead of the battered #5.  Jeff Conklin returned to the #25 for the Hazard Rally, and came up one spot shy of the Transfer position in the "B" Main.  The #06 and #02 both had their fair share of spins, relegating them to Third and Fourth place finish in the "B" Main respectively.  Alan Gary finished Fifth place in the "B" Main and the Rookie Amy Decker put her #13 Kart into a respectable finishing position of Sixth, one spot ahead of the #69 of Nathan Sedelnick. 
Joel Decker was on his way to grabbing the Pole in the Small Block Series Heat, until Azalea Brown pulled off a last lap, last corner pass at the Start/Finish line, putting the #69 on the pole for the Small Block Feature Race.  Joel managed to put his #17 into Victory Lane for the second Feature race in a row giving him a commanding lead in the points.  Chad Benson Jr. was able to redeem himself after a tough first race by placing his #28 in the Runner up finishing position.  Azalea Brown continued to show her capabilities with another strong showing, a Third place finish with the #69, and her fourth top 3 finish in 4 races.  The #21 of Gavin Travis had some speed during qualifying, but some mechanical issues left him fighting for a Fourth place finish.  The #57 of McKensie Benson and the #13 of Emma Brown finished Fifth and Sixth respectively.
We are happy to announce that Cooter will join the Founding Five for the remainder of the 2022 season.  The Drivers page on our website dirtsquirtskartclub.com has been updated as well with all our Small Block Series Drivers.  Our next race will be another first for Dirt Squirts Kart Club, a Double Feature at BlueStone Oval and Benson Roval.  The event will be held on Independence weekend, Saturday July 2nd, and we will have a Patriotic Theme for the Race as well as Fireworks and a bon fire afterwards.   There will be qualifying, a full field Heat and Full Field Feature on both tracks, so are looking for any help we can get to run these full field events.  This is sure to be one of the most challenging days for the drivers, and one of the most exciting events for the Fans!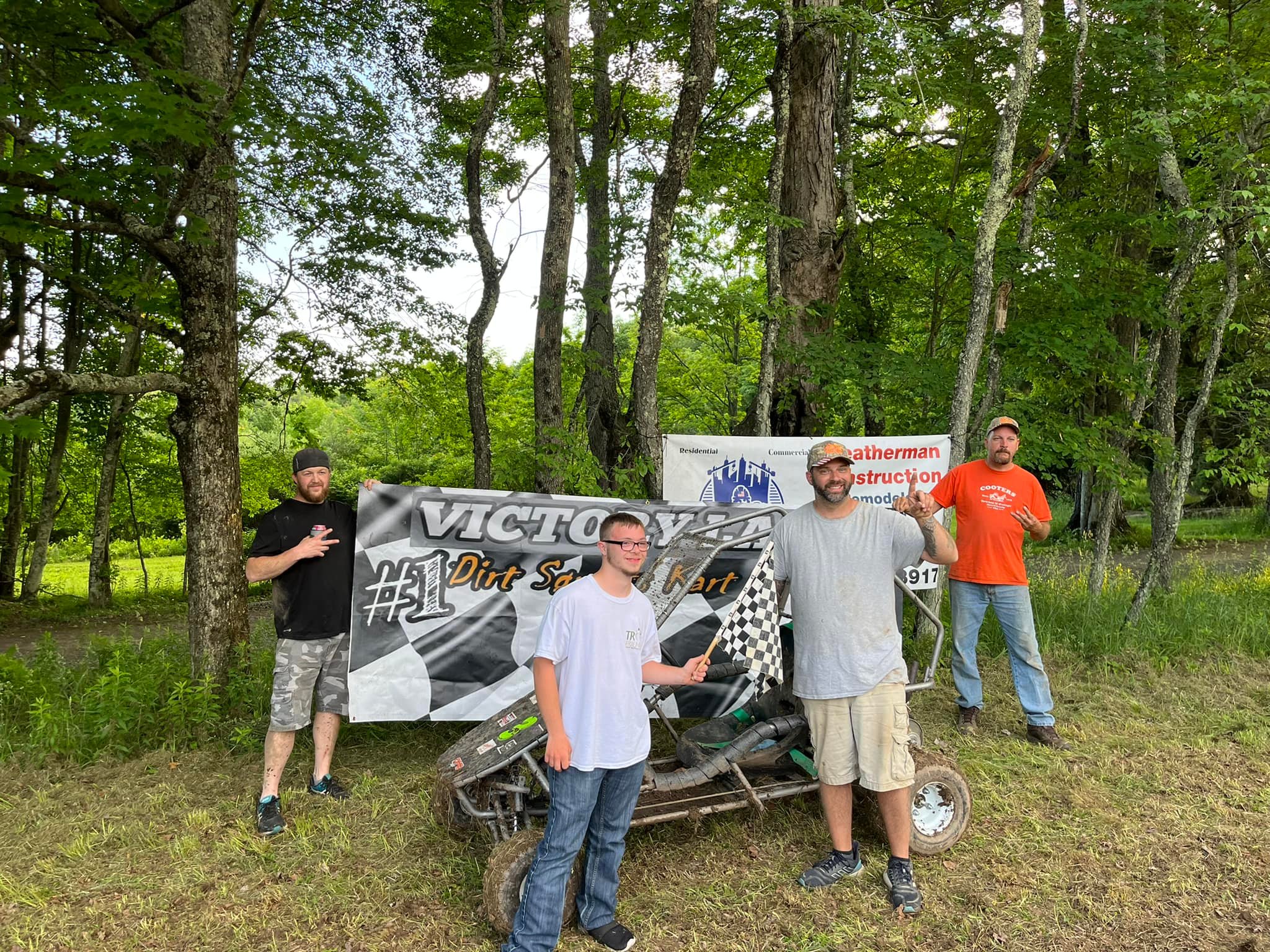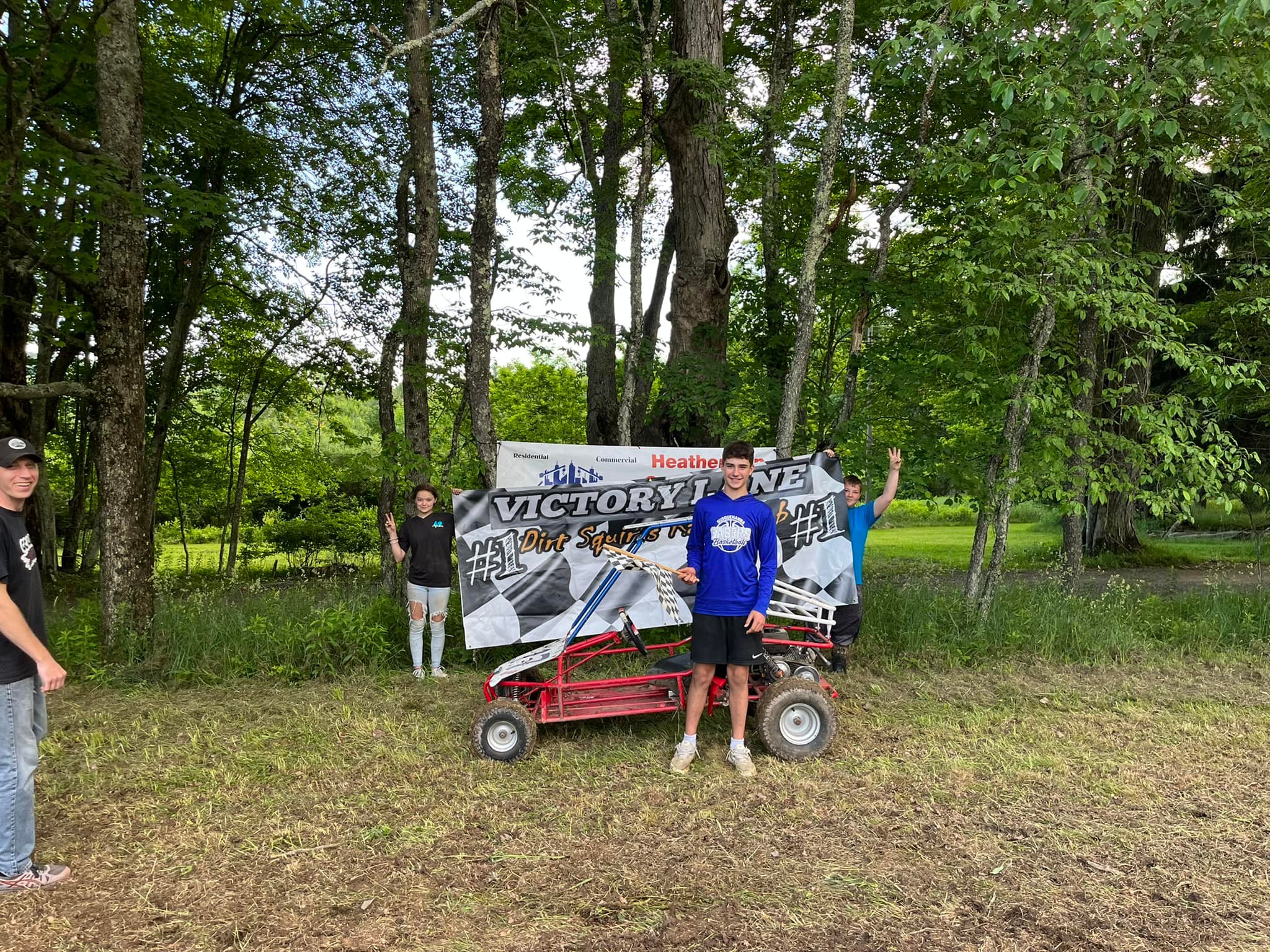 Promos and Sponsorship:
As many of you already know, our club had made the decision to set aside all funds, outside of what is necessary to fund our races, to purchase ourselves a transponder system.  Well the good news is, we were successful!  We will be using our transponder for the duration of the season, with an expected learning curve.  Thank you so much to our sponsors, we have plenty of banners as well as businesses to thank for their contributions in every one of our opening ceremonies. Beyond financial donations we have received racetrack signage and marking supplies including spray paint, haybale covers, 55-gallon plastic drums, orange cones and flags.  Thank you to everyone for your contributions!  
Special Thanks to:
NameSake Sponsor:
Heatherman Construction LLC https://heathermanconstruction.com/
Primary Sponsors:
Hyle's Audio Inc. https://www.facebook.com/hylesaudioinc
Sam the Beer Man https://www.facebook.com/SamTheBeerMan
Cayuga Marina Outfitters LLC. www.cayugamarinaoutfitters.com
Lone Star Construction
Studer's Body Shop & Garage https://studersbodyshopandgarage.com/
And for your donations:
Susquehanna Beverages https://susquehannabeverages.com/
The Founding Five
Guy Smith 
Al Phillips
History - Grassroots Racing
Starting with a conversation at the lunch table, Dirt Squirts Kart Club is grass roots racing by definition.  In 2018 a few guys sat around talking about racing Go Karts, Peter Austin #88 and Jeff Conklin #25 were the first drivers to buy Go Karts, and by that fall, these two guys were already racing around trying to get a layout for their first track.  2019 was the first full season, we had a total of 5 races that season, including the one and only race at Jones Pond, and our final race on the original BlueStone Oval.  In 2020, Dirt Squirts added an unbelievable 10 new drivers which lead to our first Exhibition race to kick off the 2020 season.  After that we held 6 points races, which included introducing HomeStead Speedway, running Conklin Glen backwards, and our very first Night Race on the new BlueStone Oval.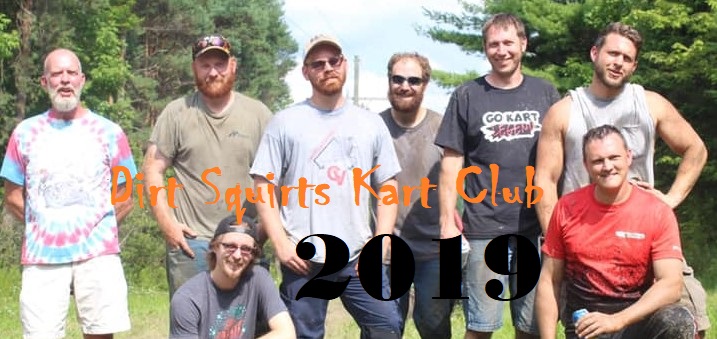 In 2022 our expectations have grown even larger.  Our club has expanded the driver registration to 20 allowable racers for each raceday, 3 times the size of our biggest group from our first year.  We have added 3 new tracks to our schedule, including a race at Action Park East, Penn Can and Champion Speedway.  This season we will have a total of 11 points races and the expectation is we will be able to maintain and grow the fan base that has added to the excitement of our sport.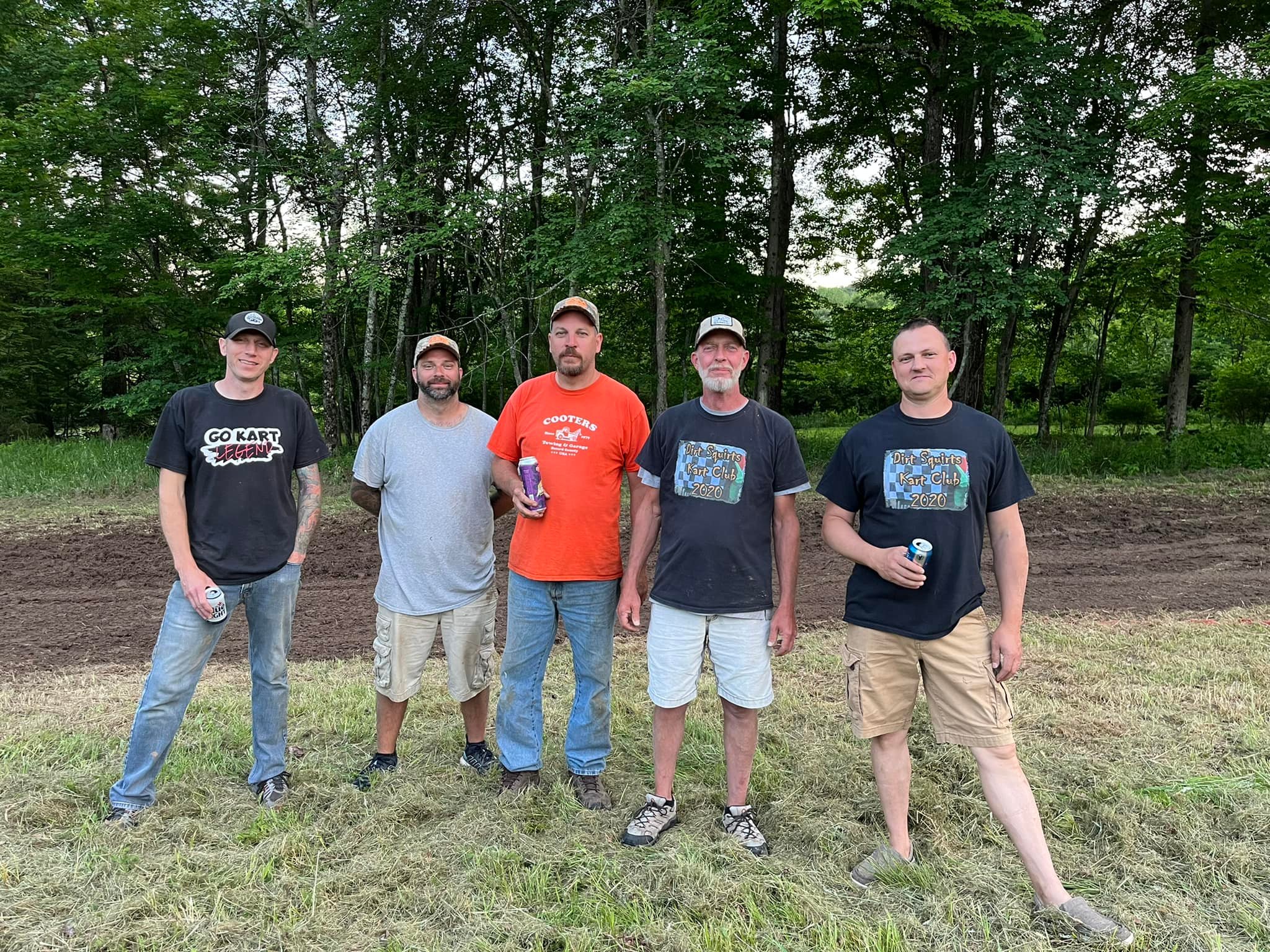 Our Founding Five members for the 2022 Season include two original members, Peter Austin #88 and Jeff Conklin #25, as well as our original flagman who simply couldn't resist getting a Kart of his own, Alan Gary #33.  Our two newest founding five members joined at the beginning of the 2020 season and both had great success, including being voted in as new representatives of our growing group, Shaun "Cooter" Krause #01 and Shane Lewis #3.  We welcome you to join us as a spectator, or as a driver if you think your interested, just look us up on Facebook and send us a message.  You can check out our rules by clicking on the Rules link at the top of the page.