2021 Banquet
We will be holding our Dirt Squirts Kart Club 2021 Awards Banquet on Saturday, January 29th @ 3p.m. at The American Legion in Susquehanna.  We will have Pizza and the bar will be open, so come join us for an afternoon of reminicing on 2021, while we get ready for season 4, our best one yet!

Season Review
It is hard to believe that another Dirt Squirts Kart Club season has come and gone, and what a season it was.  This season we saw our first repeat Champion, our first trip to professionally established tracks, our first endurance race, our first year with the wash rule that drops the lowest points race of each driver, and a brand-new transponder system that put us on the next level of scorekeeping.  Dirt Squirts was featured in five Area Auto Racing News (AARN) articles as well as an article in the nationally published Performance Racing Industry (PRI) Magazine aptly titled "Budding Budget-Beaters".  We officially became Dirt Squirts Kart Club LLC. and we acquired a half dozen sponsors that we were very happy to advertise for in our opening ceremonies, also new for 2021 as well as with stickers, our banner wall, direct links on the website and on our 2021 T-shirts.  Most notably, Heatherman Construction who signed a 2 year deal to be our namesake sponsor for 2021 &22 Season, and a Legacy Trophy is in the works that will be passed on from one Champion to the next, "The Heatherman Cup". 
Our 2021 banquet is tentatively scheduled for January 29th, @ the Legion in Susquehanna, where we will once again crown the #01, Shawn "Cooter" Krause, Dirt Squirts Kart Club Champion.  The big difference this year is, Cooter will be holding the custom made Heatherman Cup.  The #01 absolutely deserves this Championship, winning 50% of the races he was in, and finishing top two in 13 out of 16 races this season, including 3 Feature wins.  Not only is Cooter a Two Time Champ, he is one of the most friendly and helpful guys in the club.  Cooter helped build the portable transponder antenna mounting system, he is responsible for The Hazard Rally and the banking at BlueStone, Cooter is a valuable asset to our club and it is very fitting that he will be the first to hold the Heatherman Cup.
Our runner up went winless for the first time since the inception of Dirt Squirts Kart Club, but the #88 had such a consistent season that his wash race was his 4th place finish @ Endless Mountain.  "Sneaky" Pete managed to pull off 3 heat wins in 2021, and a "B" Main win securing a spot for the #88 in every Feature Race in 2021.  Peter Austin is an original Founding Five member and was able to put the #88 in the top three 12 out of 17 races in 2021 which secured his 2nd place finish in points.  Filling out the top three isn't as easy as it sounds, we had our first (and last) tie for any points position, and it just happened to be for 3rd place.  In a growing club like ours, we are constantly learning, and we will have a rule in place from now on to prevent this from happening again, seriously though, with hundreds of points on the line, what are the chances that we would have a tie for 3rd with 647 points?  So Who Do We Feature First?  How about the man with more wins, the #22 pulled off his first ever Feature win right out of the gate in our 2021 Spring Opener and then followed it up with his second win at our second trip to Action Park East under the lights in August.  Dave Benson pulled off 8 top two finishes in 14 races, including 5 overall wins, two of which were Features Wins.  Then there is Shane Lewis, a Founding Five Member who had a bit of hit and miss season, but with 9 top three finishes in 16 races, including a feature win at BlueStone, the #3 was able to couple this with the perfect attendance bonus to tie for 3rd in points.
The #5 has become a pinnacle in Dirt Squirts, and after getting flopped back over during the Endurance race, went on to get his first Feature Win! Casey Rush had a Heat win and a "B" Main win in 2021 as well, solidifying the #5 into the top 5 in points for 2021.  The #02 was also a very helpful member in our club, showing up to help with track prep pretty much every time we needed it.  Adam Briggs had a fast Kart this season, and proved it with 8 top three finishes in 16 races, including a dominating Heat Win at the Finale Race, lapping every kart in the field.  The #02 ended up 6th, only 5 points short of a top 5 in points.  Then there's the story of the two Jeffs, Jeff Decker had a "B" Main win at our first trip to BlueStone, and put the #31 into the runner up position in the Feature at Mountain View.  Jeff Conklin, an original Founding Five member, had a "B" Main win at the Finale' Race @ HomeStead which was the first win for the #25 since 2019, as well as 5 top 3 finishes in the 2021 season.  This put the the two Jeffs 7th and 8th in points respectively.
Alan Gary, another Founding Five Member, had two runner up finishes in the #33, and a fourth place Feature Race finish at HomeStead, a track built and maintained by Alan on his property.  Alan finished 9th in points this season, and rounding out our top 10 in points is CJ Swanson.  CJ put the #81 in Victory Lane during our first trip to Action Park East, but left the club late in the season.  Ken Travis finished 11th in points, and has made himself known in our club for doing whatever it took to race, even if it means buying a new Kart for every race.  This is a bit of an exaggeration, but the #21 may have found something with the Kart he placed in the runner up position at the Finale' Race @ HomeStead this season, his best ever finish.  Ray Bagalysa, who drives the #00, is known more for his upbeat personality than his on track performances, but with two top 2 non-Feature race finishes, this rookie is a great addition to our club and finished 12th in points.  Speaking of rookies, one to watch out for next season is the man the finished 13th in points.  The #26, driven by Brad Mead got hooked when filling in early in the season, and pulled off a 7th place Feature race finish with an unmodified kart.  Finishing in 14th and 15th in points respectively are Josh Houck in the #37 and Cory Seymour in the #38.  Both drivers made it to two races this season, and are welcome to join us for however many races they can attend next year as well.
There are several issues that will be addressed, as there always are, as well as some possible changes within our club.  We will be voting on changes at our banquet, including any changes that may or may not be made with the Foundinig Five.  We will address the driver and kart swaps and the countdown to green when a driver is having issues.  We will talk about possibly doing time trials for qualifying now that we have the ability with the transponder system.  We will address postponements by tracks out of our control, as well as ensuring these tracks will know our rules so we don't have penalties assessed that aren't reflected in our rule book.  We will do a line by line review of the rule book some time between now and the banquet, and if there are any issues that YOU would like addressed, please message any one of the Founding Five, and we'll review it.
While the 2022 season seems far off, the better we prepare for it, the better it will be executed.  We will hopefully be returning to both Action Park East and Penn Can as well as possibly adding Champion Speedway to our schedule.  Dirt Squirts Kart Club will once again be looking for sponsors, this time we will be putting the funds towards track prep equipment, paid flagmen and scorekeepers, and possibly even donated towards winning drivers selected charity.  We have discussed a hybrid track that includes the tight banked turn of Bluestone down to the carousel turn of Conklin Glen and then back up through the trees, giving us three tracks on one location.  Dirt Squirts Kart Club has been growing since our inception and we don't have any intentions of plateauing yet.  While we certainly have our issues, we have consistently tried to address them as quickly as possible and as fair as possible while trying as hard as we can to live by our own moto, "Just a bunch of guys racing Go-Karts for the fun of it".
Promos and Sponsorship:
As many of you already know, our club had made the decision to set aside all funds, outside of what is necessary to fund our races, to purchase ourselves a transponder system.  Well the good news is, we were successful!  We will be using our transponder for the duration of the season, with an expected learning curve.  Thank you so much to our sponsors, we have plenty of banners as well as businesses to thank for their contributions in every one of our opening ceremonies. Beyond financial donations we have received racetrack signage and marking supplies including spray paint, haybale covers, 55-gallon plastic drums, orange cones and flags.  Thank you to everyone for your contributions!  
Special Thanks to:
NameSake Sponsor:
Heatherman Construction LLC https://heathermanconstruction.com/
Primary Sponsors:
Hyle's Audio Inc. https://www.facebook.com/hylesaudioinc
Sam the Beer Man https://www.facebook.com/SamTheBeerMan
Cayuga Marina Outfitters LLC. www.cayugamarinaoutfitters.com
Lone Star Construction
Studer's Body Shop & Garage https://studersbodyshopandgarage.com/
And for your donations:
Susquehanna Beverages https://susquehannabeverages.com/
The Founding Five
Guy Smith 
Al Phillips
Carolyn Doyle
John Ketchur
Amy Franklin
Francine Edson
Brian Fish
And to anyone else who has contributed to this upcoming season, Thanks! 
History - Grassroots Racing
Starting with a conversation at the lunch table, Dirt Squirts Kart Club is grass roots racing by definition.  In 2018 a few guys sat around talking about racing Go Karts, Peter Austin #88 and Jeff Conklin #25 were the first drivers to buy Go Karts, and by that fall, these two guys were already racing around trying to get a layout for their first track.  2019 was the first full season, we had a total of 5 races that season, including the one and only race at Jones Pond, and our final race on the original BlueStone Oval.  In 2020, Dirt Squirts added an unbelievable 10 new drivers which lead to our first Exhibition race to kick off the 2020 season.  After that we held 6 points races, which included introducing HomeStead Speedway, running Conklin Glen backwards, and our very first Night Race on the new BlueStone Oval.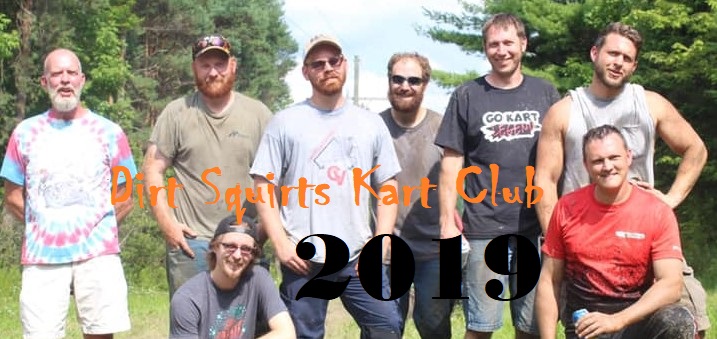 In 2021 our expectations have grown even larger.  Our club has expanded the driver registration to 18 allowable racers for each raceday, 3 times the size of our biggest group from our first year.  We have added 3 new tracks to our schedule, including a race at Action Park East in August which will be the most professional race we have been involved in since we started.  This season we will have a total of 8 points races and the expectation is we will be able to maintain and grow the fan base that has added to the excitement of our sport.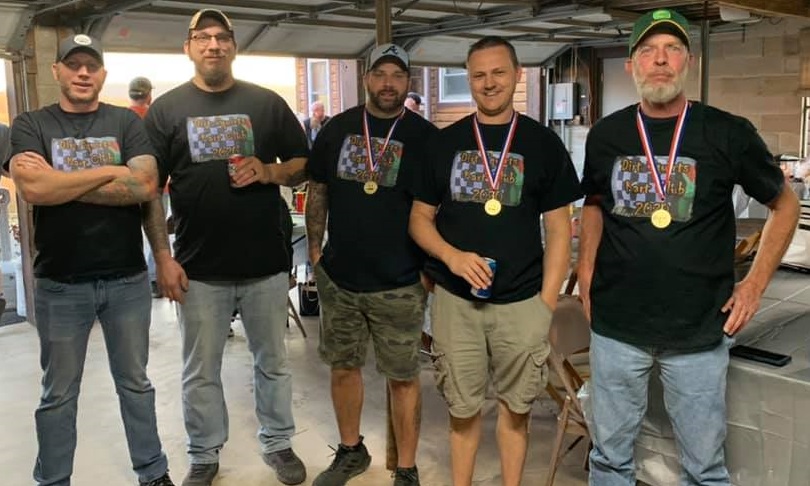 Our Founding Five members for the 2021 Season include two original members, Peter Austin #88 and Jeff Conklin #25, as well as our original flagman who simply couldn't resist getting a Kart of his own, Alan Gary #33.  Our two newest founding five members joined at the beginning of the 2020 season and both had great success, including being voted in as new representatives of our growing group, Casey Rush #5 and Shane Lewis #3.  We welcome you to join us as a spectator, or as a driver if you think your interested, just look us up on Facebook and send us a message.  You can check out our rules by clicking on the Rules link at the top of the page.